The afterglow of a hard fought day for the Old Silverbacks.. Today we workout with tight body positions and a piece of iron.
Gymnastics 
3 Strict HSPU
5 Strict Toes To Bar
WOD
" Nate "
AMRAP 20
2 Ring Muscle Up
4 HSPU
8 Kettlebell Swing (32/24)
Workout in honour of  :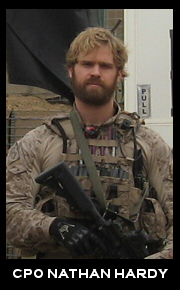 Chief Petty Officer Nate Hardy, who was killed Sunday February 4th during combat operations in Iraq.
Nate is survived by his wife, Mindi, and his infant son Parker.
Results