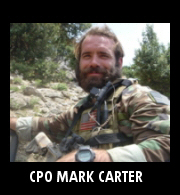 One workout today only. 530pm.
WOD
" Badger "
30 Squat Clean (42.5/30)
30 Pull Up
Run 800 m
3 Rounds
* this workout can be scaled to a partner wod
**run 800 m together
In honor of U.S. Navy Chief Petty Officer Mark Carter, 27, of Fallbrook, California, who was killed during combat operations in Iraq on Dec. 11, 2007.
He is survived by his father, Tom; mother, Cindy; three brothers and four sisters.