CrossFit. Its just kids stuff really..;-) Today is our 3rd Hero workout so far this week, so be prepared for the Unknown and the Unknowable..
Gymnastics
Handstand Walking Progressions
WOD
" Adrian "
3 Forward Roll
5 Wall Climb
7 Toes To Bar
9 Box Jump ( 60/45)
7 Rounds for time.
Workout in honour of :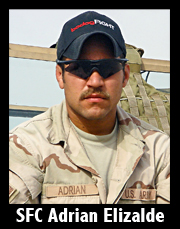 U.S. Army Sergeant First Class Adrian Elizalde, 30, of North Bend, OR, assigned to the 2nd Battalion, 1st Special Forces Group (Airborne), based in Fort Lewis, WA, died on August 23, 2007, in Baghdad, Iraq, of wounds sustained from an improvised explosive device.
He is survived by his parents, Jorge and Teresa Elizalde, sister Rachel, and daughter Sydney Grace.
Results